Thermal oil and steam heaters
Wilkins Marine Services are distributors for Elwa gmbh products.
We deliver thermal oil and steam heaters as tube- and plate type heaters. These heaters are also available as complete preheating units with pump and control box.
In addition to the Elwa units we can offer spares for the VAF Pneumatic viscotherm units many of which we have as stock i.e. service kits for the sensors, differential pressure transmitters and the control stations.
electric heaters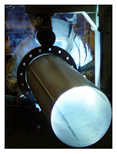 ELWA heaters are available in various designs. Because ELWA manufacture almost all parts on site, we are able to adjust heating capacity, pressure, operating voltage, flange connections and materials according to your requirements. If the standard heaters do not meet your requirements, please contact us
controls / sensors

For more than 25 years, ELWA has designed and built control systems for ELWA units and various other applications. The range covers basic power controls, highly sophisticates automation systems and process visualisation.